The Tom Fox Family JA BizTown
It's Official! The Tom Fox Family JA BizTown is Open for Business!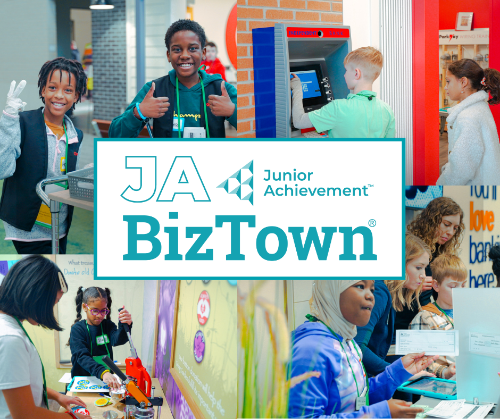 In this fully interactive town that simulates the day-to-day functions of a thriving community, 5th and 6th grade students become both producers and consumers, responsible for running businesses, managing money, fundraising, advertising, voting, and more! Students apply for jobs in the town and then experience careers like electricians, store managers, bankers, retailers, civic leaders, just to name a few.
Our community sponsors have designed their storefronts to give the town a realistic and immersive feel. We are proud to welcome BISSELL, Independent Bank, Corewell Health Helen DeVos Children's Hospital, Gordon Food Service, LMCU, Meijer, Parkway Electric, Chick-fil-A, Perrigo, Eileen DeVries Family Foundation, and Wesco to the JA BizTown neighborhood.
Storefront sponsorships are still available. If you are a business interested in being a part of this innovative, one-of-a kind facility, please reach out for more information by emailing Jay Ediger, SVP of Development, at jay.ediger@ja.org or by calling (616)575-9080 ext. 2227.
As of this Spring, 2023, schools are signing up their students for JA BizTown®! If you are affiliated with a school and want your 5th or 6th grade students to take part in the JA BizTown program, please contact Capstone Director, Clare Shubert at clare.shubert@ja.org or by calling (616)575-9080 ext. 2239.
Request Your Date
Select a button below to see how you or your organization can get involved with Junior Achievement of the Michigan Great Lakes, Inc..
Donate
Volunteer
Request A Program
We use cookies to provide you a personalized experience. How we do this is by analyzing user behavior on our site and sharing data with our advertising and analytics partners. You consent to our cookie policy if you continue to use this website.